Affordable, Effective & Relaxing Community Acupuncture
OUR OFFICE IS TEMPORARILY CLOSED UNTIL FURTHER NOTICE. 
WE WILL NOTIFY PATIENTS VIA EMAIL WHEN WE PLAN TO RE-OPEN, AND WE WILL UPDATE OUR WEBSITE AND VOICEMAIL. 
CHINESE HERBAL MEDICINE TELEHEALTH APPOINTMENTS ARE NOW AVAILABLE.  LEARN MORE HERE.

Acupuncture Together has been providing affordable and accessible acupuncture to our community since 2008.
We offer sliding scale pricing of $23-43 (plus $10 for the first visit) for everyone, everyday.  You decide what you can afford and pay what works for you, no questions asked.  Our goal is to allow you to receive the care you want and need.
Experienced Acupuncturists, Award-Winning Care
Acupuncture Together has provided over 100,000 treatments since 2008.  The acupuncturists regularly and successfully treat a wide range of health conditions including all types of pain, headaches & migraines, stress, anxiety, insomnia, allergies, digestive conditions, women's health, fertility, pregnancy conditions, autoimmune diseases and much more.  We practice a special distal style of acupuncture which allows us to effectively treat you in a group setting.  You can remain fully clothed while simply rolling up your sleeves and the bottoms of your pants.  Most points are from the elbows to the fingers, knees to toes, and head.
Thanks to all who voted for Acupuncture Together for Best Acupuncture in Cambridge and Best Acupuncture in Boston!
The Community Setting
Acupuncture Together is a community acupuncture clinic.  All treatments take place in a quiet and relaxing group treatment room and are customized for your particular health conditions.  During your session you'll sit back in a cozy recliner and rest for about 45 minutes.  Most people find acupuncture to be deeply relaxing and many people fall asleep during their treatments!  Having a community room allows us to provide care to many people while making it affordable and convenient, with plenty of appointments available each day.  In this way our clinic is capable of touching more of our community in a positive way.
Appointments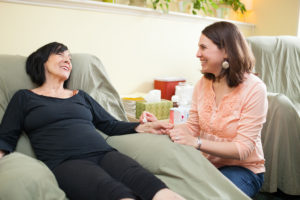 Appointments are strongly encouraged and walk-ins are accepted on a space-available basis.  We suggest giving us a call at 617-499-9993 to check for availability if you plan to come on short notice.  Same-day appointments are often available.  Make an appointment online 24/7.  CLICK HERE TO MAKE AN APPOINTMENT OR CALL 617-499-9993.
Location
Our office is located at 2464 Massachusetts Avenue, Suite 420, in North Cambridge.  Our building is conveniently located just a half mile from Arlington, steps from Somerville and less than 2 miles from Medford.  The closest T stop is Davis Square (approx. 0.5 mile), and the 77 bus runs on Massachusetts Avenue in front of our building.  Get directions and parking information.
Specials & News
We periodically send out e-newsletters featuring informative topics, specials, schedule updates and more.  Most months we also have a special.  Here's our latest news & monthly special.
POCA & POCA Tech

Our clinic is a proud member of the People's Organization of Community Acupuncture (POCA).  POCA is a cooperative working to increase accessibility to and availability of affordable group acupuncture treatments.  POCA membership is available to patients and all community acupuncture enthusiasts; learn more about POCA here!  POCA also helps make affordable education available for community acupuncturists.  POCA Tech is a school for community acupuncturists; if you're interested in community acupuncturists and possibly becoming one yourself, check it out!
Our clinic appreciates the diversity of human beings.  We do not discriminate based on race, national origin, religion, age, height, weight, education, language, ability, marital status, sexual orientation, sex, gender identity, political opinions or any other factor.

Acupuncture Together is a community acupuncture clinic that serves the people who live and work in Cambridge and neighboring communities of Somerville, Arlington, Medford, Watertown, Boston and beyond.