All acupuncturists at Acupuncture Together are licensed to practice acupuncture in Massachusetts, hold Master of Acupuncture or Master of Acupuncture and Oriental Medicine degrees and are Diplomates of the NCCAOM (National Certification Commission for Acupuncture and Oriental Medicine).
Caitlin Arntz
Caitlin earned her Master of Acupuncture and Oriental Medicine (MAOM) from the New England School of Acupuncture (NESA) in 2012 and has since given over 10,000 treatments.  As a student intern, Caitlin spent time treating patients at Cambridge Health Alliance, Boston Medical Center and the NESA clinic.  Since graduating, she has continued her education by studying the treatments of distal point masters Dr. Tan and Master Tung.
Prior to acupuncture school, Caitlin earned a Bachelor of Arts in Psychology at the University of Massachusetts Amherst.  Caitlin feels that a background in psychology provided a great base for her hands on experience in the clinic and meshes well with a medicine that views the patient in a holistic way.  She has successfully treated a broad range of pain, emotional, digestive and women's health conditions in addition to many other health conditions.
Caitlin feels strongly that acupuncture should be affordable and accessible so that people can get the treatments they need in order to achieve their health care goals; this could mean, for example, managing chronic pain, recovering from an injury, getting pregnant or striving for a better quality of life.
Justine Deutsch Myers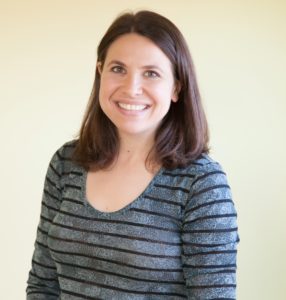 Justine earned a Master of Acupuncture and Oriental Medicine (MAOM) degree from the New England School of Acupuncture in Newton, MA in August of 2007 and is licensed to practice both acupuncture and Chinese herbal medicine. Her graduate studies focused on Chinese style acupuncture and Chinese herbal medicine, and she has done post-graduate coursework in distal point treatments for acute and chronic pain as well as Chinese herbal medicine for internal medicine conditions.  Justine has extensive clinical experience successfully treating a wide range of conditions.
Justine was a board member of the Community Acupuncture Network in 2010 and 2011, and now serves as a community acupuncture clinic success mentor for POCA, the People's Organization of Community Acupuncture. She has taught courses on distal point treatments and Chinese herbal medicine at community acupuncture workshops.  Justine's work in the community acupuncture setting began at Manchester Acupuncture Studio in New Hampshire in September of 2007, where she practiced until opening Acupuncture Together on May 27, 2008.
Prior to becoming an acupuncturist, Justine obtained a B.A. in mathematics with a minor in psychology from the University of Rochester.  When she's not working, Justine is usually busy taking care of her two young children.  She enjoys spending time with her family and friends, running and walking outside and cooking.
Kathia Kirschner
Kathia graduated from the New England School of Acupuncture in 2013 with a Master of Acupuncture and Oriental Medicine (MAOM) degree and began working at Acupuncture Together in March of 2014.  She is duly licensed in both acupuncture and Chinese herbal medicine.
Kathia strongly believes that acupuncture should be available and affordable to everyone, and has loved Acupuncture Together ever since she experienced it as a patient in 2010.  Kathia particularly likes treating women's health, emotional/psychological conditions and pain, but has experience treating a variety of other conditions as well.  Kathia entered this field because of her original interest in psychology and counseling, but with a desire to treat the whole person: body, mind and spirit.
While attending acupuncture school, Kathia joined Global Acupuncture Project (GAP) in Uganda to teach local health professionals to deliver simple and effective acupuncture in rural areas, where access to health care and medications is often limited.  She is still involved with GAP as a Board of Directors member.
Kathia was born in São Paulo, Brazil, and moved to the United States in 2001.  She received her Bachelor's degree in Human Development at Cornell University and worked with research and training at the Harvard Program in Refugee Trauma before she attended acupuncture school.  Kathia is an avid traveler who enjoys getting to know people and learning about different cultures.  She is fluent in English, Spanish and Portuguese with a working knowledge of French.  In her free time, Kathia enjoys dancing, practicing martial arts and yoga, reading fantasy novels, traveling and spending time with friends and family.
Lea White
Desk Staff
Michelle Nathan
Michelle spent most of her childhood moving with her family to various Air Force Bases around the country, so when she landed in Boston after college, she embraced it as her home.  She has been working at Acupuncture Together as a receptionist since 2013 and also manages the front desk staff.  In her free time, Michelle is a serial crafter.  She regularly makes jewelry, binds handmade books, embroiders, crochets, knits chainmaille and randomly picks up other crafts as the whim takes her.  She is also a writer and a runner, though she doesn't claim any great skill at either.  As a big geek, she enjoys reading sci-fi and fantasy novels, reading historical non-fiction, watching sci-fi television, and obsessing over the musical "Hamilton". (Have you heard "Hamilton"?  It is brilliant.)  Her other hobby, Live Action Roleplaying, is also super geeky, and involves pretending to be other people while fighting monsters with foam swords.  Her one claim to fame was a five-year stint as a professional improviser at ImprovBoston.
Michelle lives in Arlington with her husband, Lance, and their two cats, Rebo and Zooty.  You can find her and her Dunkie's Coffee at the front desk mornings Monday through Thursday.
Tom Gareau
Tom first visited Acupuncture Together in 2011 as a way to unwind from his hectic life as a conservatory student. In a serendipitous chain of events, he meandered his way into working at the front desk the summer before beginning his Masters degree and has managed to hold onto a shift or two ever since. Tom's post conservatory life primarily involves maintaining a private voice studio in Porter Square, serving on the voice faculty at Franklin School for the Performing Arts, and leading the bass section at St. Julia's Parish in Weston. Nonetheless, you can find him at the clinic on Thursdays and Fridays enjoying the peaceful atmosphere of the waiting room and soaking up the healing vibes from everyone in the treatment room.
Trista Charron
Trista has been working at Acupuncture Together since the spring of 2014.  She's a Massachusetts native who has spent much of her time traveling around the world.  Since returning from her travels, Trista has been living in the Boston area and finishing up her undergraduate degree in Humanities at the Harvard Extension school while also taking care of young children.  In her spare time she enjoys reading, writing, drawing, playing guitar, riding her bike and yoga.
Denise Morin
Denise is here at the front desk on Tuesday nights and she also occasionally subs at other times.  Aside from working at Acupuncture Together Denise walks dogs and is a local comedian – no joke!  A native of the North Shore, Denise has a wicked sense of humor and aims to make your front desk experience a happy one.
Viola Augustin
Viola is at our front desk every other Saturday.  She is also a landscape architect, cyclist and Cambridge enthusiast.