All acupuncturists at Acupuncture Together are licensed to practice acupuncture in Massachusetts, hold Master of Acupuncture or Master of Acupuncture and Oriental Medicine degrees and are Diplomates of the NCCAOM (National Certification Commission for Acupuncture and Oriental Medicine).
Caitlin Arntz
Caitlin earned her Master of Acupuncture and Oriental Medicine (MAOM) from the New England School of Acupuncture (NESA) in 2012 and has since given over 20,000 treatments.  As a student intern, Caitlin spent time treating patients at Cambridge Health Alliance, Boston Medical Center and the NESA clinic.  Since graduating, she has continued her education by studying the treatments of distal point masters Dr. Tan and Master Tung.
Prior to acupuncture school, Caitlin earned a Bachelor of Arts in Psychology at the University of Massachusetts Amherst.  Caitlin feels that a background in psychology provided a great base for her hands on experience in the clinic and meshes well with a medicine that views the patient in a holistic way.  She has successfully treated a broad range of pain, emotional, digestive and women's health conditions in addition to many other health conditions.
Caitlin feels strongly that acupuncture should be affordable and accessible so that people can get the treatments they need in order to achieve their health care goals; this could mean, for example, managing chronic pain, recovering from an injury, getting pregnant or striving for a better quality of life.
Justine Deutsch Myers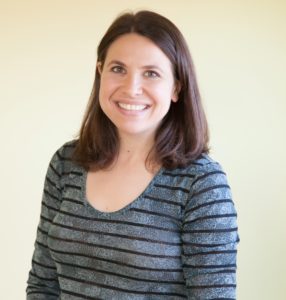 Justine earned a Master of Acupuncture and Oriental Medicine (MAOM) degree from the New England School of Acupuncture in Newton, MA in August of 2007 and is licensed to practice both acupuncture and Chinese herbal medicine. Her graduate studies focused on Chinese style acupuncture and Chinese herbal medicine, and she has done post-graduate coursework in distal point treatments for acute and chronic pain as well as Chinese herbal medicine for internal medicine conditions.  Justine has extensive clinical experience successfully treating a wide range of conditions.
Justine was a board member of the Community Acupuncture Network in 2010 and 2011, and now serves as a community acupuncture clinic success mentor for POCA, the People's Organization of Community Acupuncture. She has taught courses on distal point treatments and Chinese herbal medicine at community acupuncture workshops.  Justine's work in the community acupuncture setting began at Manchester Acupuncture Studio in New Hampshire in September of 2007, where she practiced until opening Acupuncture Together on May 27, 2008.
Prior to becoming an acupuncturist, Justine obtained a B.A. in mathematics with a minor in psychology from the University of Rochester.  When she's not working, Justine is usually busy taking care of her two young children.  She enjoys spending time with her family and friends, running and walking outside, gardening and cooking.
Lea White
Lea graduated from the New England School of Acupuncture (NESA) in 2016 with a Master of Acupuncture and Oriental Medicine (MAOM) degree and is licensed to practice both acupuncture and Chinese herbal medicine.  In addition to practicing Chinese style acupuncture and herbal medicine at the NESA clinic as a student intern, Lea saw patients at an elder service program in Lynn and gained additional skills treating pain and injuries in a specialized orthopedic clinic rotation.
Lea first experienced community style acupuncture as a patient at Acupuncture Together in 2010 and is thrilled to now be a practitioner here. She loves being part of a welcoming practice that makes high-quality acupuncture treatments available to so many people. With training as a post-partum doula and a passion for women's health, Lea particularly enjoys working with fertility and pregnancy. She also has a strong interest in trauma-informed treatment of psycho-emotional conditions.
Lea received her Bachelor's degree in Biological Sciences from Stanford University. She worked in public health research for years, then decided to attend NESA after acupuncture provided her with dramatic relief from chronic pain associated with a low back injury. In her free time, Lea enjoys practicing yoga, running around Fresh Pond, traveling, and going on adventures with her pre-teen daughter.
Desk Staff
Michelle Nathan
Michelle spent most of her childhood moving with her family to various Air Force Bases around the country, so when she landed in Boston after college, she embraced it as her home.  She has been working at Acupuncture Together as a receptionist since 2013 and also manages the front desk staff.  In her free time, Michelle is a serial crafter.  She regularly makes jewelry, binds handmade books, embroiders, crochets, knits chainmaille and randomly picks up other crafts as the whim takes her.  She is also a writer and a runner, though she doesn't claim any great skill at either.  As a big geek, she enjoys reading sci-fi and fantasy novels, reading historical non-fiction, watching sci-fi television, and obsessing over the musical "Hamilton". (Have you heard "Hamilton"?  It is brilliant.)  Her other hobby, Live Action Roleplaying, is also super geeky, and involves pretending to be other people while fighting monsters with foam swords.  Her one claim to fame was a five-year stint as a professional improviser at ImprovBoston.
Michelle lives in Arlington with her husband, Lance, and their two cats, Rebo and Zooty. You can find her and her Dunkie's Coffee at the front desk mornings Monday through Thursday.
Trista Charron
Trista has been working at Acupuncture Together since the spring of 2014.  She's a Massachusetts native who has spent much of her time traveling around the world.  Since returning from her travels, Trista has been living in the Boston area and recently finished her undergraduate degree in Humanities at the Harvard Extension school while also taking care of young children.  In her spare time she enjoys reading, writing, drawing, playing guitar, riding her bike and yoga.
Denise Morin
Denise began working at Acupuncture Together in January 2017.  Aside from working at Acupuncture Together Denise walks dogs and is a local comedian – no joke!  A native of the North Shore, Denise has a wicked sense of humor and aims to make your front desk experience a happy one.
Deidre Purcell
Deidre joined the Acupuncture Together crew in June of 2017.  She works as the Production and Communications Manager for Watertown Children's Theatre, where she's lost count of the number of stage productions she has worked on since 2005.  She also has a small Reiki practice in Watertown.  In the fall of 2017, she'll be starting her Ph.D. in Women's Spirituality.  You can find her at the front desk on Friday mornings.