OUR ADDRESS AND CONTACT INFORMATION:
PLEASE NOTE WE ARE CURRENTLY LOCATED IN NORTH CAMBRIDGE, BUT WE ARE MOVING TO WEST MEDFORD IN MAY 2021!
CAMBRIDGE
Acupuncture Together – CAMBRIDGE
2464 Massachusetts Ave, Suite 420
Cambridge, MA 02140
(617) 499-9993
Our Cambridge office is located in a large brick office building. 
PARKING
You may park in the lot behind our building as long as you park in a 30 minute spot directly in front of a 30 minute parking sign (they will not tow you unless you park for more than 2 hours!).  If you park in a non-30 minute spot you may be towed!  Alternatively, you may park on the street – there is PLENTY of street parking at many meters along Massachusetts Avenue. Please choose a 2 hour meter and put in at least 6 quarters (90 minutes) at the time of your first visit.  Meters are free after 6 PM.
PUBLIC TRANSPORTATION, WALKING & BIKING:
You may access our office via public transportation and walking or biking. The bike path between Alewife and Davis Square runs adjacent to the parking lot behind our building. We're located 0.8 miles from the Davis Square T stop, 1 mile from the Porter Square T stop and 1.1 miles from the Alewife T stop. There are also stops for the 77 bus line (running between Harvard Square and Arlington Heights) just down the street from our building. To find the best route to our clinic using public transportation, please click here.
WHEELCHAIR ACCESS:
There is handicap parking in the lot behind the building and a door with flat access through the back door of the building.  The back door does not have a power/automatic opener, so someone will likely need to assist you if you use a wheelchair.  The back door requires a code to enter: 2359* on the pinpad.  There is an elevator that can take you up to our 4th floor office.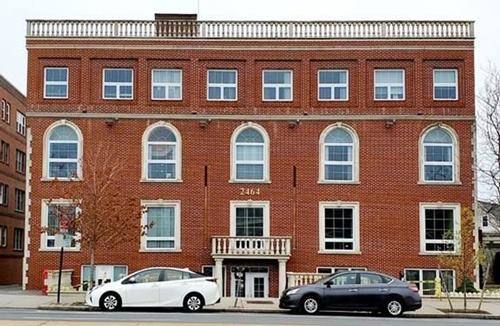 MEDFORD
Acupuncture Together – MEDFORD
127 Boston Avenue
Medford, MA 02155
(617) 499-9993
PARKING
Plenty of easy and free (no meters!) street parking is available along Boston Avenue close to the clinic.
PUBLIC TRANSPORTATION
Our Medford office is located on 2 bus routes: 80 (Lechemere – Arlington Center) and 94 (Davis Square – Medford Square).  The bus stop is directly in front of our building, at the corner of Boston Ave. and Arlington Street.
WHEELCHAIR ACCESS
We have a portable wheelchair ramp that we can place outside our front door if you need it.  Unfortunately our restroom is not wheelchair accessible.